OUR EROTIC MASSAGE CENTER IN BARCELONA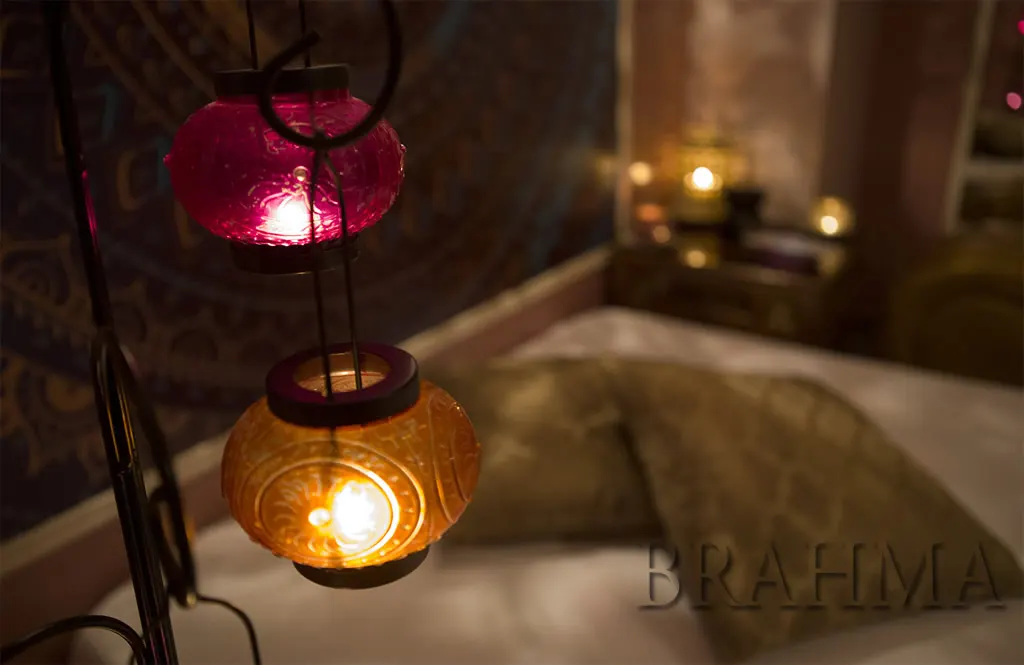 In our erotic massage center in Barcelona, we take care of all the details to offer our clients a unique experience and a space to escape and relax. Comfort, elegance, professionalism and discretion are the values that have supported us for almost twenty years.
Brahma is the reference massage center in Barcelona, offering the most exclusive massages and services, in an environment designed and cared for down to the smallest detail. At Brahma Massages we put our facilities at your disposal so that you can enjoy yourself with maximum comfort: air-conditioned cabins with double showers, fully equipped and decorated to offer you maximum privacy and comfort. We seek excellence and the highest quality and satisfaction for our customers, based on three essential pillars: environment, care and service.
Our perfect location in the center of Barcelona makes us more accessible to our clients. Come visit Brahma Massages, a space for relaxation and pleasure in the center of the city.
BRAHMA MASSAGES: A SPACE CREATED FOR PLEASURE
Upon arrival at the Brahma Massage Center, our receptionists will provide you with a professional and dedicated treatment, providing you with the advice and attention you need. You will discover what sets us apart from other centers that offer erotic massages in Barcelona.
As soon as you enter, you will immerse yourself in an atmosphere designed to arouse the maximum pleasure of the senses, leave stress and worries behind and disconnect from the outside world. Our spaces, designed in detail for enjoyment and relaxation, will surprise you and trap you in a sensual and captivating atmosphere. To offer you the maximum comfort, we have fully equipped rooms, with shower/bathroom in each of them. In addition, our hygiene protocol is very strict, so your relaxing time in our center will be safe and comfortable.
Our facilities, together with the beauty and sensuality of our professional erotic masseuses, will make you enjoy a Luxury Erotic Massage. Choose your favorite from our varied menu of erotic massages, and just focus on enjoying yourself with the best erotic masseuses in Barcelona. And if what you are looking for is a really special erotic massage service in Barcelona, do not hesitate to contact us and tell us what you expect from that moment of relaxation with your favorite girl. Rest assured that we will do everything possible to make the experience in our massage center unforgettable and that you want to repeat again and again.
At our Brahma Essence center in Industria 34, we offer you the possibility of renting one of our luxurious cabins, so that you can come accompanied by your favorite erotic masseuse or your partner.
Let yourself be enveloped by eroticism, lust and pleasure at the Brahma Erotic Massage Center.
WHAT OUR CUSTOMERS SAY
In our massage center in Barcelona we have been offering the best service to satisfy thousands of clients for almost 20 years. The opinions of our clients support us.